Torggata is an exciting shopping street undergoing extensive development in recent years. Torggata is home to both well-known shops, restaurants, bars, as well as niche concepts and boutiques.
TORGGATA EAST – OSLO'S TRENDY STREET
Torggata east is an exciting shopping street that has undergone extensive development in recent years. It started with upgrading the street to become a pedestrian/cycle street, thereby creating a better shopping environment. The street now has trendy niche shops and quality food service establishments, making it a pleasant place to spend time, both day and night.
On the corner of Hausmanns gate and Torggata, you'll find the cycling-inspired Peloton bar and pizzeria – named after the main group of riders in a bike race. Here you'll find a café and bicycle workshop next door to each other. Several other popular food service establishments are also found on this street, such as Munchies, Crow Bar & Bryggeri and Lokk. Vintage Gitar is housed in beautiful retro-furnished premises at Torggata 26–28 and is definitely worth a visit. Niche stores like VANS and Dr. Martens are also established on the street.
TORGGATA WEST
Torggata west is a pedestrian street between Stortorvet and Youngstorget. It is the third largest shopping street in Oslo and has numerous shops and a number of food service establishments.
The street is mainly home to chain stores, including Gina Tricot, Clas Ohlson, Kitch'n and TGR. Tommi's Burger Joint and its amazing burgers, as well as Joe & the Juice, are also found here.
There is an entrance to the small Strøget passage from Torggata. This is a trendy and attractive passageway buzzing with life, with several popular dining and drinking options, such as Angst Bar and Cafe Sør.
Interested in renting a commercial property on Torggata?
We can help you find the best solution for your concept.
Would you like more information about our premises on Torggata?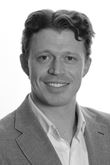 Hans Jørgen Hansen
Assistant Property Manager, Commercial property